Page 3 - Seats Ahead Catalogue 10th Edition
P. 3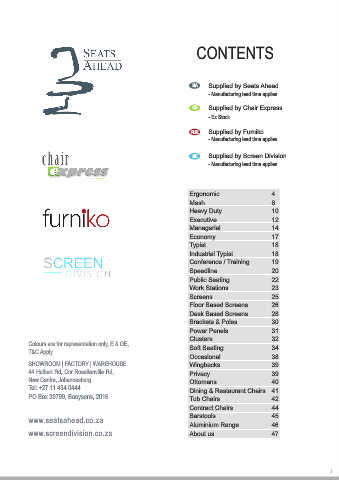 Front row from left : Roche, Rosa, Heather, Michelle, Dave, Lindi, Carron, Johannes
     Middle row from left: Kay-Leigh, Anne, Bennedictor, Chounise, Candice, Puseletso, Annah, Danielle

                            Back row from left : Yuter, Theresa, Nicolette, Shantelle, Brenda

    Seats Ahead (Pty) Ltd was started in 1994. We specialise in the manufacture of a wide range of office
chairs. The company is now housed in a 10 000m² factory. After 20 years, the company boasts a significant
share of the total market in South Africa and neighbouring countries. With our stable customer base we are
 still growing in turnover and market share. The company is driven by a combination of competitive pricing,

 quality products and service. Our wide customer base is supported by dedicated and experienced staff, a
  strong trading history and a reliable network of local and international suppliers. Over time other areas to
 expand the business have been identified in the market and new divisions within the business have been

                                                        opened and developed.

 Furniko was then started in March 2003. This allowed the company to offer soft seating to compliment the
  Seats Ahead ranges. Reception seating and sofas could be sourced by customers from the same factory
which was also able to supply a product that would stand up to the vigorous environment of the commercial

                                                                workplace.

  To provide an all-round service Chair Express was opened mid 2003 and only imports finished product -
 specialising in office chairs, sofas, contract and hospitality furniture. China is our main source of goods but
  product is also imported from Italy, Portugal, Turkey and Taiwan. Chair Express has a large stock holding
 and is a preferred supplier in the market with an excellent ability to fill orders at short notice. As with all the

         divisions all product is responsibly supplied, designed and manufactured for commercial use.

  In 2016 we diversified our range to include Screen Division. We saw an opportunity in the market to offer
 our customers office partitioning with the same quality, service and competitive pricing that our customers
  are accustomed to. With extruded aluminium components of the highest quality, we have already gained
the confidence of a number of significant customers. This has resulted in a wide variety of installations, from
call centres to high end office space. With our ever increasing order book, together with quality and profes-

     sionalism being the norm, we are confident that Screen Division's market share will rapidly expand.